Dog Boarding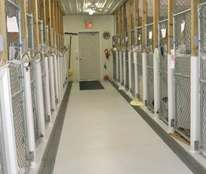 Doggie Quarters
50 Spacious Indoor/Outdoor Kennels Our suites provide a very spacious inside area with privacy walls on each side and a clear door allowing natural light to enter. This door allows direct access to their own private patio. Weather permitting, these doors are open all day. We offer three different size suites, to accommodate small to large dogs or multiple family pets. We also offer a quite area with crates for the smaller dogs upon request. Our kennels are all situated on a concrete slab with heated floors to comfort them on cold nights. They are completely covered on the outside to prevent exposure from the elements, rain, snow, sun. Air conditioning is available. Kennels are cleaned and disinfected daily, or more often if needed. Music is played throughout the kennel to provide a relaxing atmosphere for all pets. Fresh water is provided morning and at bedtime along with a bedtime treat before they are tucked in for the night. We offer bedding along with blankets for the cooler weather and sheets for the summer. However, you are welcome to bring any items, beds, treats, toys from home. Please make sure they are labeled with your pet's name.
For your Dog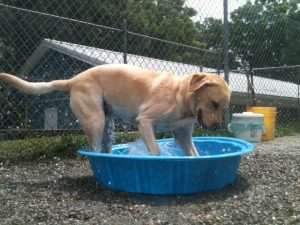 Playtime – This is a 15 minute one on one play session with our staff. If your dog loves to play ball, catch a Frisbee or just wants to be held. Playtime is recommended for our senior dogs to keep them moving, reduces stiffness and it aids in their digestion. ($10 a session)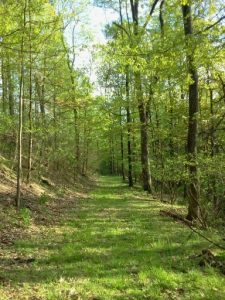 Nature Walks – Weather permitting, out staff will take your dog out on a long and adventure filled walk through the woods. They can see many animals from birds to deer and squirrels. ($15 a session)
Cat Boarding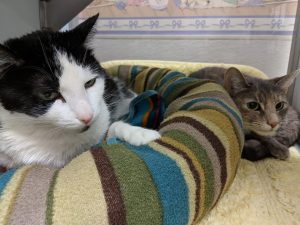 The Cattery
Cat accommodations feature spacious, airy condo's with resting benches, and large floor area. The Cattery is a separate room away from the dogs, with a window overlooking the natural woods with lots of wildlife. The window opens allowing fresh air in on nice days. Fresh water and litter is provided each day along with frequent personal contact from us.
Vaccinations:
For the health and safety of all boarders, we require that you bring a written veterinary record of current vaccinations as follows:
DOGS: Distember (DHLPP)
Rabies – 1 or 3 year
Canine Cough (Bordetella) – yearly
CATS: FVCR – yearly
Rabies – 1 or 3 year
A current dog license is required as well.
Lehigh County Dog Licenses can be purchased at K-9 Kampus at time of drop off.